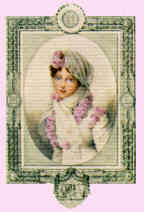 The image of the violet is inseparably connected with the name of Maria Luigia, second wife of Napoleon Bonaparte and Duchess of Parma, Piacenza and Guastalla from 1816 to 1847.
In 1815, even before her arrival in Italy, she wrote from the Shonbrunn Palace to her lady- in-waiting in Paris:"Please obtain fro me some Parma violets, with written instructions on how to plant them and have them bloom; I hope they will grow well since I am becoming a botany scholar and I will be happy to grow this graceful little flower again..."

As soon as she arrived in Parma, she personally took charge of their cultivation both in the Botanic Garden she had wanted and the garden of her summer residence in Colorno. Maria Luigia also used the violet, and in particular its colour, as a personal mark. In some letters a painted violet takes the place of her signature, and she wanted violet to be the colour of her Page's uniforms,her courtiers' dress,as well as that of her own capes.
The perfume, "Violetta di Parma" owes its very existence to Maria Luigia and her love of this flower. It was she who encoraged and supported research by the monks at the Monastery of the Annunciata who, after long and patient work, succeeded in obtaining an essence from the flower and its leaves which was identical to that of the violet.
The first bottles of the Violetta di Parma, produced thanks to the alchemic skill of the monks, were made solely for the personal use of the Duchess Maria Luigia.
It was around 1870 when Lodovico Borsari, obtained from these same monks the jealously guarded secret formula for the preparation of this perfume and, with a great foresight, had the idea of producing it for a wider audience.