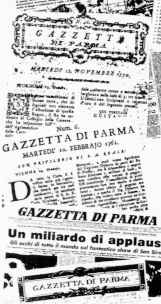 The "Gazzetta di Parma" is the oldest, Italian, daily newspaper and a monument that has challenged time. It has given us uninterrupted history for two and a half centuries and what history!! - which ranges from the "Farnese" to the "Borbone"; from Napoleon to Maria Luigia D'Austria; and then to the last of the "Borboni", reaching 'risorgimental' Parma and finally Italy: from the "Reign of Italy" up until the Republic, going through the brief twenty year period of Fascism.

From 1735 up until today, in thousands and thousands of pages, day after day, not only has the history of Parma been written on the pages of the "Gazzetta di Parma" but also that of Europe and the entire world. Born in the environment of the "Corte del Ducato" as a weekly, the Parma newspaper has grown and developed itself like a tree that has been planted in front of a house gaining character and form on its own.

It has moulded great names in the journalistic world: from its school have derived characters such as Giovannino Guareschi , who knew how to create a literary style. Also Giuseppe Verdi and Arturo Toscanini constantly appeared on the pages of the "Gazzetta di Parma; also Alberto Bevilacqua and Luca Goldoni started off their career in local news, they have added a strong literary production of international fame to their brilliant work of journalism.